Case Wins for our clients in Michigan
Fields Disability has a proven track record of winning. When you are disabled and unable to work, the law firm you hire can make all the difference in whether you will win your case.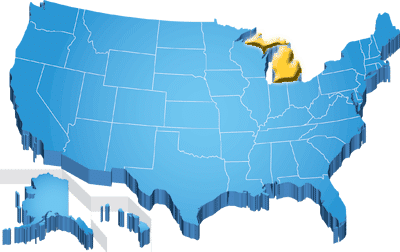 Here are just a few examples of our disability appeal case wins for our clients in Michigan.

Cable Technician - Standish, MI
Neck Injury, Bad Shoulders, Back Problems, Migraines
"A cable installer from Michigan was hit head-on in his work truck and sustained shoulder and neck injuries. He took time off work and went back to school to get certified as an electrician. His shoulder and neck issues flared up again due to repetitive work activity and he was forced to stop working. His insurer constantly hassled him for additional documentation and took him off benefits twice saying he had not sufficiently proven his disability.
After an unsuccessful appeal of his insurer's decision to stop paying, he called Fields Disability for help. Our team gathered all of our client's medical records. Our attorneys reviewed the medical records and the notes from the insurer and found that our client had been wrongfully denied benefits. We filed a lawsuit in federal court to fight for our client's rights. During preparation for a hearing, Fields Disability attorneys negotiated a generous lump-sum settlement. Our client was overjoyed to be through fighting the insurance company, and is happy with the help Fields Disability provided."

Lumber Yard Manager - Chesterfield, MI
Chronic Neck Pain, Neck Fusion Surgery, Weakness throughout both Upper Arms, Gait Instability
"Our client was a lumber yard manager from Michigan suffering with chronic neck pain after undergoing a multilevel neck fusion surgery. He was removed from work and his treating providers noted he could not return to the physical nature of his previous occupation. He applied for long-term disability benefits through his employer's plan with Greater Georgia Life. Unfortunately, the insurer denied the claim asserting based on its review he could continue to perform the material duties of his occupation.
Our client turned to Fields Disability for help. Our team worked with our client to build an appeal fighting this denial. We wrote to our client's doctors receiving extensive narrative reports specifically responding to the insurers grounds for denial. Additionally, we pointed out substantial errors in the review that failed to consider all the relevant evidence in the claim file. After receiving our appeal, the insurer reversed its decision, paid our client his backpay, and commenced monthly long-term disability benefits. "

Reasearch Specialist - Suttons Bay, MI
Bilateral Carpal Tunnel Syndrome, Pain and Numbness in Hands
"A woman from Michigan worked as a research specialist for a Native American tribe. Due to her years of working she had developed carpal tunnel syndrome and associated pain and numbness in her hands. Her condition progressed to the point where she could no longer work. She was approved for short-term disability benefits but denied long-term disability. The long-term disability insurer claimed that she could work.
Needing an income to survive and unable to work, she reached out to Fields Disability. Her attorney at Fields Disability drafted and filed an appeal with the insurer which included updated medical records. The appeal was denied and her attorney immediately filed suit in federal court. Leveraging his knowledge of the file and law, her attorney was able to negotiate a settlement with the insurance company which provided her with the security that she needed."

Document Processor - Detroit, MI
Cervical Disc Herniation, Fusion Surgery
"A young man who worked as a document processor for a Detroit law firm was hit by a drunk driver. As a result of the accident, he suffered from a disc herniation in his neck, cervical facet syndrome, and a cervical spine sprain. He was in constant pain. He eventually was forced to undergo surgery to fuse his cervical spine at the C4-C5 disc. Due to his condition, he was unable to continue working. His insurer, Principal Life, initially approved him for short-term disability benefits. When he applied for long-term disability benefits, Principal alleged that he was capable of performing his job and denied his benefits.
Unsure of what to do and how to live without an income, he got in touch with Fields Disability. Our attorneys began compiling all of the necessary medical records and reached out to the client's doctors to obtain narrative reports which detailed his impairments, treatment, and continuing symptoms. Our attorneys then prepared a compelling appeal to submit to the insurer. Upon review, Principal realized that they had made a mistake denying the client's benefits and they were promptly reinstated. The client was overjoyed to find out that the insurer had reversed their denial and was able to rest easy knowing that he would have income to live off of."

IT Specialist - Traverse City, MI
TBI
"Not long after getting his dream job as the director of information technology with a large international business, our client was involved in a car-on-motorcycle collision, which resulted in him striking his helmeted head on the road pavement at freeway speed. Miraculously he spent only a brief period in the hospital and then was released. When he returned to work, however, he began experiencing excruciating headaches and cognitive issues.
He kept his difficulties to himself and continued to do his job. Eventually, however, other employees began to notice that he was slurring his speech and could not track information and numbers and shortly thereafter his employers told him he would need to take leave to care for his medical needs.
He applied for disability and, despite the medical support from his doctors, the disability carrier upheld his denial. The disability carrier reasoned that because he had worked for several months without making complaints to anyone, he wasn't disabled.
He then hired the Fields Disability and our attorneys reached out to medical providers and obtained records, which clearly documented cognitive difficulties and impairment, and filed an appeal. The disability carrier reviewed the appeal and determined that it would reverse its denial and began making disability payments. This client earnestly wishes to go back to work but will need some time to work through his cognitive issues, and is very appreciative that he now has the money to sustain himself through that period of therapy and healing."

Technician - Plainwell, MI
Neurocardiogenic Syncope, Autonomic Nervous System Reflex Disorder
"Our team represented a worker who was unable to continue his job due to neurocardiogenic syncope, an autonomic nervous system reflex disorder that causes the individual's heart rate and blood pressure to drop, leading to fainting episodes. In discontinuing the worker's benefits, the insurance company relied on the opinions of two doctors who had never even seen the man, but felt that he could perform sedentary work based on their review of his medical records. Additionally, the insurance company stated that the man's restrictions, as provided by his treating doctor, were "preventative" in nature and not indicative of his ability/inability to perform gainful work.
The Fields Disability team presented a strong appeal to the insurance company, in which they argued that it had not applied the correct standard of disability when it found that our client was not disabled. We argued that the fact that our client's restrictions were in place to prevent him from fainting and sustaining further injury did not preclude payment of benefits under his policy. The Fields Disability team also gathered updated medical records for the client and illustrated that his condition had not improved since he was initially awarded benefits. Based on these efforts, the insurance company agreed to reinstate the man's benefits."