Case Wins for our clients in New Jersey
Fields Disability has a proven track record of winning. When you are disabled and unable to work, the law firm you hire can make all the difference in whether you will win your case.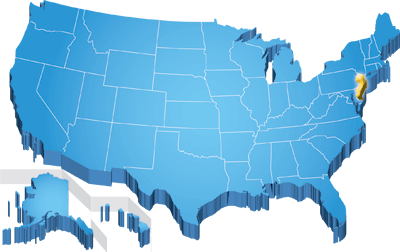 Here are just a few examples of our disability appeal case wins for our clients in New Jersey.

Payroll Supervisor - Neptune City, NJ
Renal Failure, Atrial Fibrillation, Diabetes, Hypertension, Depression
"A woman from New Jersey had a great job as a payroll supervisor at a company in New Jersey until she deleveloped renal failure, atrial fibrillation, diabetes, hypertension, and depression. Her condition required a hospital stay during which she developed respiratory failure and had to be kept alive by a ventilator. In addition, she required dialysis. Her condition later recovered and she was transferred to a rehab facility. Clearly, she could no longer work. Reliance Standard, her long-term disability insurer initially accepted her claim and paid benefits. The insurer later denied her claim stating that she had recovered enough to perform the duties of any occupation.
Not knowing how to fight the insurance company, she reached out to Fields Disability. Her attorney at Fields Disability began updating the client's medical records to provide the full scope of the client's condition. Once the records were compiled, he drafted a winning appeal which led the insurance company to overturn their denial and reinstate her benefits. The client felt a huge sense of relief knowing that she had gotten her benefits back."

IT Manager - Ledgewood, NJ
Orthostatic Hypotension, Cognitive Difficulties
"A man from New Jersey had been suffering from difficulties with cognition and fatigue. Eventually, he started experiencing blackout episodes. After fighting to continue to work, he no longer could. He was later diagnosed with orthostatic hypotension. His long-term disability insurer denied his claim for benefits arguing that he did not satisfy the definition of disabled.
Not knowing what he was supposed to do, he found the attorneys at Fields Disability. His attorney at Fields reviewed all the records the insurance company had and began getting updated records. He also obtained reports from the client's treating doctors. After appealing, the insurer denied the claim once again we filed a lawsuit in federal court. The attorney was able to negotiate a settlement with the insurer which the client was very happy with. "

Pipefitter / Welder - Iselin, NJ
Chronic Back pain
"A man worked as a pipefitter and welder in New Jersey. He suffered from severe back pain due to a workplace injury. MRI's showed disc bulging and pressure on his spinal cord in his lumbar spine. As a result of his pain, he could not work. His insurer, Cigna initially approved his claim for long-term disability benefits but the claim was later denied. In their denial, Cigna asserted that the medical information available did not support ongoing disability.
Unsure of what to do, he reached out to Fields Disability. His attorney at Fields Disability reviewed theinsurance company's file and developed a plan to fight the denial. He updated medical records and requested reports from the client's treating doctors. With the updated records and reports, he then drafted a winning appeal. The insurance company reversed their decision and reinstated the client's monthly benefits and paid all the past-due benefits. The client was incredibly relieved to know that his source of income had been restored."

Benefits Analyst - Manville, NJ
Severe spondylosis, Radiculopathy into her Extremities
"A 51-year-old Benefits Analysis who worked for a large hospital suffered from a debilitating spinal condition, which radiated into her legs. She loved her job and, in particular, the patients that she worked with. She took great satisfaction in finding ways for hospital patients to pay for their much-needed medical treatment.
Unfortunately, she developed severe low back pain that radiated down to her legs, and made standing and sitting for extended periods of time near impossible. She began seeing a neurologist, who at first administered injections and, later, because of the severity of the condition, performed surgery. Unfortunately, the operation did not diminish the pain and eventually she had to notify the hospital she could not return to work. She filed for disability benefits which were granted temporarily, but later denied based on a simple records review by the insurance carrier.
She immediately hired Fields Disability to review her case. Our attorneys took on the case and assembled medical records and supportive reports and filed an appeal which persuaded the disability carrier to overturn its denial. The payments were reinstated and this client is overjoyed at receiving much in the much-needed payments to pay for her and her family's needs."

University Administrator - Atlantic City, NJ
Hip Joint Pain
"A 60-year-old woman who worked in school administration at a university in New Jersey developed severe and debilitating hip joint pain, making it impossible for her to do her job. While she spent most of her day at a desk in front of the computer, there were those occasions when she would have to carry books and files and binders and walk across campus. As time progressed, her hip pain made walking, and even sitting, excruciating. To make matters worse, her husband received a cancer diagnosis and was completely unable to work. The bills were mounting.
For months, she was determined to deal with the pain in the hopes that it would either disappear or at least decrease but, when it didn't, she filed for disability. Her disability benefits were initially granted, but sometime thereafter, her benefits were suddenly and with little warning denied.
She attempted to resolve the disability payments on her own but, when it became clear the disability carrier would not reverse its position, she sought the assistance of Fields Disability. Our attorneys undertook the collection of medical records and supportive medical reports and filed a lawsuit. Through attempts at negotiations, our attorneys were able to settle the entire claim, on a lump sum basis, providing a significant sum of money to our client which enabled her to have sufficient funds to meet her financial needs."