Case Wins for our clients in New York
Fields Disability has a proven track record of winning. When you are disabled and unable to work, the law firm you hire can make all the difference in whether you will win your case.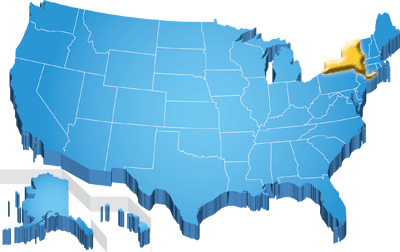 Here are just a few examples of our disability appeal case wins for our clients in New York.

Bio Chemist - Ardsley, NY
Congestive Heart Failure, Complications from Heart Transplant, Shortness of Breath
"A bio-chemist from New York began having shortness of breath and heart palpitations. Her doctors diagnosed her with congestive heart failure and put her on a transplant list for a new heart. She stopped working and received long-term disability benefits through her employer. The surgery was successful, but her symptoms continued. After seven years of receiving benefits, her insurance company stopped paying because she didn't fit their definition of "disabled."
Worried about her lost income, she called Fields Disability for help. Our team reviewed all our client's records and called two physicians for narrative reports to illustrate her condition more clearly to the insurance company. Both doctors said that she could not work in any capacity due to exertion-based shortness of breath. Fields attorneys submitted the new reports with a strong appeal to the insurer, and the decision was overturned. Our client received a lump-sum check for back-pay and ongoing benefits. She is pleased with her restored income, and happy to have Fields Disability working for her."

Network Communications Tech - Port Jefferson, NY
Neck Pain, Back Pain, Hip Pain, Complications from Back and Hip Surgery, Cognitive Issues
"A Network Communications Technician from New York was in a car accident. Because of the accident he had two spinal fusions and microfracture surgery on his hip. He also suffered memory issues and trouble concentrating after the accident. He was forced to stop working and received long-term disability benefits for seven years through his employee benefits plan. The insurance company sent him a letter after seven years of benefits that stated he would no longer receive benefits because he could return to work.
He contacted Fields Disability for help. Our team contacted all our client's treating physicians and obtained a comprehensive medical history. We contacted physicians for additional medical reports supporting our client's case. Our attorneys reviewed the medical records and drafted a strong appeal to the insurer. The insurance company changed their mind and our client received a lump-sum payment for back-pay and ongoing monthly benefits. He was relieved to be through fighting the insurer, and was happy to have his income restored."

Repair Technician - Huntington Station, NY
Osteoarthritis
"Our client was a Repair Technician from New York suffering from osteoarthritis. When his doctors removed him from work he applied for Long-Term Disability benefits through his employer's plan with Aetna. At first, Aetna approved the claim and paid his benefits. However, when the definition of disabled changed under the policy, requiring our client to be disabled from Any Occupation, Aetna denied the claim arguing there were other occupations he could perform.
Concerned, our client turned to Fields Disability for help. Our team drafted built an appeal to fight this decision. We reached out to our client's doctors for specific narratives answering questions aimed at fighting this decision. Additionally, we received an independent vocational assessment pointing out that our client could not, in fact, perform any other occupations in the national economy. After receiving our appeal Aetna reversed its denial, paid our client his back pay and restarted his monthly disability payments. "

Registered Nurse - Henrietta, NY
Severe Back Pain with Radiation, Endometriosis, Interspatial Cystipis, Hyper Mobile Joints, Anxiety, Depression
"A New York woman had worked as a Registered Nurse for many years. As is common in the practice of nursing, the woman developed severe back pain, with radiation. She also developed Endometriosis, Interspatial Cystipis, Hyper Mobile Joints, anxiety, and depression. Upon her disablement, and after being forced to leave work, the woman applied for long-term disability benefits from her insurance carrier. The insurer denied her claim for benefits, and the woman appealed their decision herself. However, the insurer again denied her claim for benefits, claiming her medical information did not support functional limitations which would prevent her from performing her Own Occupation on a full-time basis.
The New Yorker knew she needed help fighting the insurance company, but she felt like she was running out of options. After researching all of the top disability law firms, she selected Fields Disability. She was immediately put into contact with our team of attorneys. After gathering some initial information from the client, our attorneys determined she was in a position to file a federal lawsuit against the insurer.
Our team of legal professionals petitioned the insurer for necessary information. The insurer returned reams of documents related to the client's disability case, which our attorneys reviewed before filing the lawsuit. After several months of back and forth with the insurance company's lawyers, the Fields team was able to secure a settlement in our client's favor. The insurer agreed to pay a lump-sum amount, and our client soon received a settlement check in the mail. "

Software Engineer - Brooklyn, NY
Neuralgia, Depression, Severe Anxiety
"Prudential discontinued the disability benefits of a disabled software engineer. She suffered from neuralgia, depression, and severe anxiety. The insurance company argued that the woman was able to return to her stressful and demanding job, though it cited absolutely no medical evidence in support of its position.
The woman hired Fields Disability to handle her appeal. We gathered updated medical records and reports from the woman's treating doctors stating she was unable to perform any kind of work. We submitted a brief arguing Prudential's review was selective and arbitrary due to the lack of medical evidence supporting its decision. Prudential overturned its decision, stating it agreed the woman was completely disabled.
"

Bank Teller - Schenectady, NY
Depression, Post Traumatic Stress Disorder
"A bank teller from New York was experiencing depression and posttraumatic stress disorder. She was increasingly anxious at work and her condition deteriorated to the point where work was impossible. She stopped working and entered in-patient treatment for her depression. She applied for long-term disability benefits based on a physician's recommendation that she would not be able to work in her condition. The insurer denied the claim she submitted and her subsequent appeal.
Shocked that the insurance company twice disregarded the opinion of her treating physician, she called Fields Disability for help. Our attorneys reviewed our client's extensive medical record and determined that the insurer had ignored key medical reports throughout the process, and never conducted a medical examination of their own. Fields Disability filed a law suit in federal court to pursue benefits for our client. During the preparations for trial, our attorneys were able to negotiate a generous settlement for our client which included back-pay of benefits and continuing long-term disability benefits. Our client is relieved that she can focus on her own health, and is happy with the settlement she received."