Case Wins for our clients in Pennsylvania
Fields Disability has a proven track record of winning. When you are disabled and unable to work, the law firm you hire can make all the difference in whether you will win your case.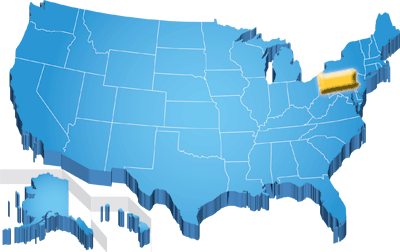 Here are just a few examples of our disability appeal case wins for our clients in Pennsylvania.

Registered Nurse - Greentown, PA
Chronic Neck Pain
"A nurse became disabled after developing severe nerve pain resulting from multilevel disc herniation and a failed cervical fusion. It affected her ability to help her patients and she left work permanently because she could no longer provide the requisite level of care. The insurance company sporadically paid benefits, occasionally cutting the woman off pending updated medical records. However, the insurer sent the woman a letter informing her she could perform a full array of sedentary work. The woman was alarmed, because all of her doctors agreed that she was completely disabled and unable to return to any work. She had no idea where the notion that she could return to work came from.
Fields Disability filed an appeal on the woman's behalf. We closely examined the information the insurer used to deny the woman's claim. We determined that it failed to properly examine the medical records from the woman's orthopedic doctor. We secured a medical source statement from the orthopedic doctor and a narrative report from a consulting physician. After submitting the reports with the appeal, the insurer quickly overturned its decision to deny benefits and reinstated the woman's claim. The woman was thrilled with the decision and was thankful for Field's help."

Shift Supervisor - Johnstown, PA
Chronic Migraines
"A shift supervisor at a retail store became disabled when her chronic migraines worsened and rendered her almost completely incapacitated. Liberty Mutual paid her claim for just over a three months before denying benefits. Liberty abruptly sent the woman a denial letter stating there was insufficient medical evidence to show the woman was disabled. The woman was surprised because she had continued treating with her doctors who all agreed she could not work.
The woman hired Fields Disability to appeal the decision. Our attorneys updated her medical records and requested letters from her doctors describing the woman's severe migraines. Those documents were submitted with factual and legal arguments about Liberty's failure to give appropriate weight to the woman's medical records. Liberty reinstated benefits and paid the woman everything she was owed under the terms of the policy. The woman was so pleased with the work done on the appeal that she hired Fields Disability to continue monitoring her claim and ensure Liberty Mutual treated her fairly."

Paralegal - Easton, PA
Failed Cervical Fusion, Cervicalgia, Chronic Pain
"Our client was a paralegal from Pennsylvania suffering from the after effects of a failed cervical fusion surgery, and chronic pain. She received long-term disability benefits for several years before her insurance company hired a private investigator to follow and videotape her. The surveillance footage showed she went on a few errands on one day out of three. Unfortunately, the insurer denied the claim arguing this proved she could work.
Our client appealed these decisions on her own but was unable to get the insurer to reverse their decision. Next, she turned to Fields Disability for help. Our team filed a lawsuit on our client's behalf and were able to negotiate a settlement resolving the matter so our client never has to deal with the insurer again. "

Mechanic - Hollidaysburg, PA
Back Pain, Sciatica
"A man from Pennsylvania who worked as a mechanic suffered from severe back pain and sciatica. The pain prevented him from performing his job as a fleet mechanic for US Foods. Cigna, his long-term disability insurer, denied his claim for long-term disability benefits, asserting that the medical information did not show that he was physically limited.
Clearly unable to work in his condition, he found Fields Disability. His attorney at Fields began reviewing the entire file from the insurance company and the report from the insurance company's doctor. After completing his review, his attorney knew exactly what needed to be done. He updated medical records and obtained statements from our client's orthopedist. With the updated records and reports, our attorneys then drafted a winning appeal. The insurance company reversed their decision and reinstated the client's monthly benefits. The client was so thankful to get his benefits back and relieved that he would no longer have to worry about supporting himself and his family."

Equipment Operator - Loysville, PA
Arthritis, Coronary Artery Disease, Anxiety, Atrial Fibrillation, Back Pain
"An equipment operator from Pennsylvania suffered from arthritis, lower back pain, coronary artery disease and atrial fibrillation. His symptoms were severe and he was forced to stop working. He received long-term disability benefits through Prudential for two years until Prudential suddenly stopped paying his benefits, insisting that he was able to work again.
Shocked and confused by the sudden loss of benefits, he contacted Fields Disability for help with an appeal. Fields Disability attorneys contacted Prudential for all of their records, and contacted our client's doctors for additional records. Our client had a very short timeline to get his appeal in. Our attorneys were able to meet every deadline even though Prudential refused to extend a single date. The appeal was submitted on-time, and Prudential granted our client ongoing long-term disability benefits and a lump-sum check for back-pay. He was overjoyed at the result, and was happy to have this crucial source of income back."