Case Wins for our clients in Wisconsin
Fields Disability has a proven track record of winning. When you are disabled and unable to work, the law firm you hire can make all the difference in whether you will win your case.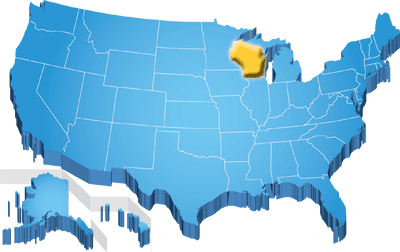 Here are just a few examples of our disability appeal case wins for our clients in Wisconsin.

Mechanical Designer - Kimberly, WI
Cynaide Exposure, Dizziness, Loss of Balance
"A Mechanical Designer from Wisconsin was exposed to some toxic fumes at work. Over the next several weeks he began experiencing severe bouts of dizziness and loss of balance. His doctors said there may have been cyanide in the fumes. The symptoms forced him to stop working. He applied for long-term disability benefits with Cigna and provided medical records from his treating physicians. Much to his dismay, Cigna denied the claim, saying that he did not fit their definition of "disabled."
Upset at his loss of income, he contacted Fields Disability for help. Fields attorneys started by gathering additional medical records from our client's doctors, and obtaining the claim file from Cigna. Fields Disability attorneys sent a strong appeal to Cigna, arguing that they made a mistake in denying benefits for our client. Cigna acknowledged their error and granted a lump-sum payment for back-pay! Our client is now back to work and pleased that he can pay for his medical expenses."

IT Tech Specialist / EDI Analyst - Pewaukee, WI
Cognitive Impairment
"Our client was a 60 year old IT Technician for a small business. Acknowledging it's rare to find someone at her age who knows very much about computers, she absolutely loved her job and intended to keep it until well into her 70s. Unfortunately, she suddenly started forgetting things, slurring words and struggling with counting which, unsurprisingly, made solving her company's computer problems near impossible.
She was horrified at this sudden development and was concerned it was the beginning of dementia. For fear of losing her job, she attempted to keep it hidden from her employer as long as she could. Eventually, however, it became too difficult and she was forced to apply for disability. United Healthcare awarded benefits initially, but after a review of the records, sent her a denial letter stating her medical history did not show she was disabled from her job.
Terrified of having to find a new career at age 60 and earning significantly less money, she desperately attempted to persuade United Healthcare to reverse its position. When they would not do so, she contacted Fields Disability. Our attorneys reviewed the records and discovered United Healthcare had selectively cited medical chart notations to support its decision to deny disability benefits. Relying upon specific medical records that demonstrated a clear and undeniable decline in his client's cognitive capability, our attorneys filed an appeal with United Healthcare, who reversed its decision, awarding long term disability benefits. "

Operations Supervisor - Tomah, WI
"Our client was an Operations Supervisor from Wisconsin. He was diagnosed with multi-level degenerative disc space narrowing of his lumbar spine, Lyme's disease, and Type II diabetes. Due to his conditions, he was unable to continue performing his job and taken off of work by his doctors. He was initially awarded short-term disability benefits by his insurer Cigna. However, after paying short-term benefits for only two months he received a letter in the mail from Cigna claiming his medical conditions were not severe enough to prevent him from performing his work duties.
Out of work on doctors' orders and now being told he would not receive any further disability payments, he immediately reached out to Fields Disability to assist challenging this decision. Our attorneys worked with his doctors to secure narrative reports and medical records supporting his inability to work. Our team also assisted him in navigating the procedural maze of applying for Social Security Disability benefits.
Next, after reviewing all of the Cigna's documentation, our attorneys identified several times where critical medical and vocational evidence was ignored, misstated, or selectively cited. We drafted our appeal challenging the denial of short-term disability benefits and successfully convinced Cigna to reverse its denial. Our client then received a favorable disability ruling from the Social Security Administration and our team is now pursuing his long-term disability benefits. Our client was extremely relieved receiving not only his significant back pay owed to him but also in knowing that he would now enjoy on-going monthly benefits."

Payroll Supervisor - Mt. Pleasant, WI
Infalmmatory Polyradiculopathy, Fibromyalgia
"A Payroll Supervisor became disabled after developing severe nerve pain all throughout her body. It affected her ability to concentrate and perform her duties throughout the day. After initially paying some disability benefits, Lincoln sent the woman a denial letter, stating she could perform desk work and other sedentary duties. Lincoln argued that the woman did not have any severe neurological symptoms that would preclude such duties. The woman was shocked, because her condition had actually been worsening over the past several months.
Fields Disability filed an appeal on tour client's behalf. We closely examined the information that Lincoln had when it denied benefits and secured detailed reports from two of our client's treating providers challenging that information. Lincoln reviewed the information in the appeal and determined the woman was eligible for benefits.
"

Director of Employee Services - Hager City, WI
Inflammatory Rheumatoid Arthritis, Restless Leg Syndrome, Low Back Pain, Cervical Radiculopathy
"Our client became totally disabled from his work due to his inflammatory rheumatoid arthritis, restless leg syndrome, low back pain, and cervical radiculopathy. He worked for many years as a Director of Employee Services for his employer. This job required him to travel to worksites in his region weekly for inspections. His physical limitations due to his conditions, especially with respect to standing, made it impossible for him to continue this work.
However, his insurance company denied the worker's claim for long-term disability benefits, alleging that the worker's occupation was sedentary in nature. The insurance company also claimed that a statement from the claimant's physician did not contain physical restrictions severe enough to preclude him from performing the duties of his job.
The disabled employee made the decision to hire Fields Disability to help him fight the insurance company's wrongful denial of benefits. The Fields Disability team showed that the insurance company failed to properly evaluate our client's claim, and that by doing so, the insurance company breached its fiduciary duty to our client.
First, they had wholly misstated the physician's statement, ignoring important limitations and restrictions imposed on our client by his doctor. In addition, they misclassified the disabled worker's occupation as a sedentary position, when in fact, the position was not sedentary in nature at all. Our attorneys provided evidence that his client's job was actually performed at a ""light duty,"" or even ""medium duty"" exertional level. Our team filed a lawsuit in federal court on behalf of our client and were able to settle the case for a lump sum without having to go to court."